Worker Health & Safety Awareness: DVD Video
With our Worker Health & Safety Awareness video DVD, you receive:
15-minute video DVD
Substantial Leader Guide (Word format)
Reproducible Participant Guide (Word format)
Quiz and Quiz Key
Reproducible Certificate of Completion
Scheduling Sheet to Track Learner Progress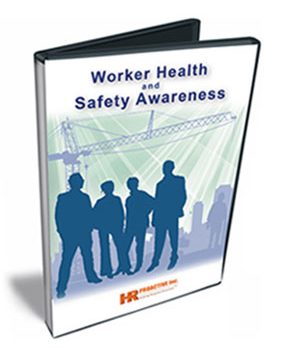 Occupational Health & Safety Legislation in Canada
The Canadian Centre for Occupational Health & Safety states: Occupational health and safety (OH&S) legislation in Canada outlines the general rights and responsibilities of the employer, the supervisor and the worker through an Act or statute and related regulations. Regulations made under an Act define the application and enforcement of an Act. Each of the ten provinces, three territories and the federal government has its own OH&S legislation."
Legislation requires all employers to ensure that workers and supervisors complete mandatory occupational health and safety awareness training. This requirement applies to everyone who meets the current definitions of "worker" and "supervisor" under the the Occupational Health & Safety Act of your Province or Territory. Don't wait until a Labour Inspector comes to your workplace. Arrange for training today.
HR Proactive Inc. is here to assist you with your company's training needs.
Contact us today. We can help.